I have been a fan of the Weddingbee blog for months now – well, ever since I began planning my vow renewal, really. And every time I search DIY (I am doing a LOT of things myself) something gocco-ed catches my eye.
What is Gocco? Well, although I don't have one, what I can glean from my hour of research tonight is that Gocco is basically a way to screen print on paper at home. It uses light bulbs to burn any carbon-based paper image onto a screen, which you then ink and press down onto paper. The great thing is that you can do multiple colors and very intricate images, and it can literally print anything you can photocopy within its size.
Here is the Weddingbee thread on Gocco and a link to the Flickr group for Gocco. Also, via the Weddingbee site, I found this picture of a Gocco-ed card that is simply amazing.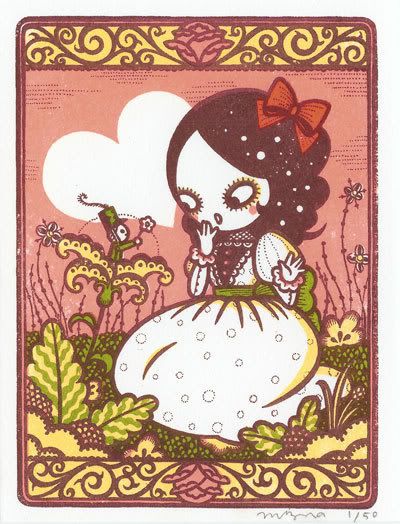 Image courtesy of the Wurst Gallery
My impression from reading is that the ink doesn't look at all like it does via printing from an inkjet printer. It looks either like lithography or vintage printing. My guess, although I have not yet seen it, is that it is WAY cooler than offset printing.
The bummer? Gocco is discontinued in the US. It's a Japanese product that was highly popular in the 1980s and has experienced a resurgence via blogs and groups and brides that are much more DIY than in the past. Ebay still has some machines listed, but they are relatively expensive, around $200. I believe that all of the component parts are available at most art stores and even at Paper Source.
I now desperately want a Gocco. I can't even imagine all of the fun I'd have with it!
E.