When I began the process of planning my vow renewal, I knew only the basics. My certainties were the size of the guest list, the "feel" I wanted to have, my basic color scheme, and the adjectives I wanted to use to describe my event. I also knew that because I was having a smaller number of people I could put a lot of personal touches into my event. What I didn't know (and what I'm still working on!) is HOW to make the event my own.
Many people choose to incorporate a monogram or a theme to carry throughout their event. I've definitely seen this done well. However, many times the end result doesn't feel personal, but instead makes everything seem cookie cutter or overdone. It seems that for every episode of Platinum Weddings I watch I see 57 monograms, 2 chocolate fountains, 1 martini luge, and crystals dripping from every centerpiece. They all look the same! Now, I know that all of you out there that love chocolate fountains and martini luges are screaming at your monitors right now and I'm sorry. I'll let you in on a secret – I love these things too! But there is no way that these will make their way into my event. The reason? Because everyone else is doing it!
I firmly believe that your wedding is the one time where you get to have a day that's all about you – let's face it, we're all selfish and we love having things about us! So why would any of us want to plan an event that centers around what everybody else is doing? So, in the spirit of individualism, here are some subtle (and maybe not so subtle) ways that I have found to add personal touches to your event and to simply make it cohesive.
Sweat the Small Stuff!
The 'wow' touches are great and should not be ignored but it's the small things that people will notice and they'll feel much more included in the event.
Felicia's Fancies offers a lovely selection of embroidered handkerchiefs. This would make a perfect keepsake for grandmothers and mothers, or for your bridesmaids to carry down the aisle (they could double as bouquet wraps!).


Images courtesy of Felicia's Fancies
Handwritten or handmade items are another small way to personalize. Hire a calligrapher to complete your place cards, or, if you're crafty and your guest list is manageable, take the time to make your favors by hand.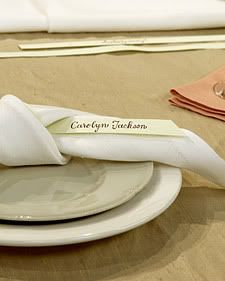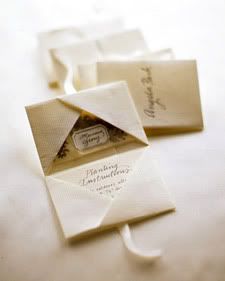 Images courtesy of Martha Stewart
One easy way to give a cohesive look and feel to your event is to use the same stationery suite throughout. Keep your fonts and your color combinations consistent. Use the same paper in different weights for everything from your save the date cards to your thank you notes. If you monogram, do it elegantly and sparingly. And while color on invitations is absolutely amazing, I am personally a big fan of the classic ecru invitation with black engraving, as presented here by my favorite printer, Piccolo Press.

Image courtesy of Piccolo Press
Give out of town guests a special treat that reminds them of whatever beautiful city you're holding your wedding in. Chicago? Garrett Popcorn? Atlanta? Peach Jam. New York? Apples and a DIY Playbill. Los Angeles? A map of the stars' homes.
And Sweat the BIG Stuff Too!

Instead of a chocolate fountain, how about a crepe station?
Instead of fireworks, try flying lanterns! They're biodegradable and even more gorgeous than fireworks.

Image courtesy of Wishes in the Sky
Rather than sparse and exotic floral arrangements, use masses and masses of one type of flower. You'll get a great quantity discount and the look is so luxurious.
I hope I've given you some mid-week inspiration. What ideas are you planning to use in your event that make it personal? Are there special touches that you're incorporating that are unique? Please let me know – I'd love to hear your ideas!
E.